Neighborhood News
The Mystery Labyrinth Maker Discovered.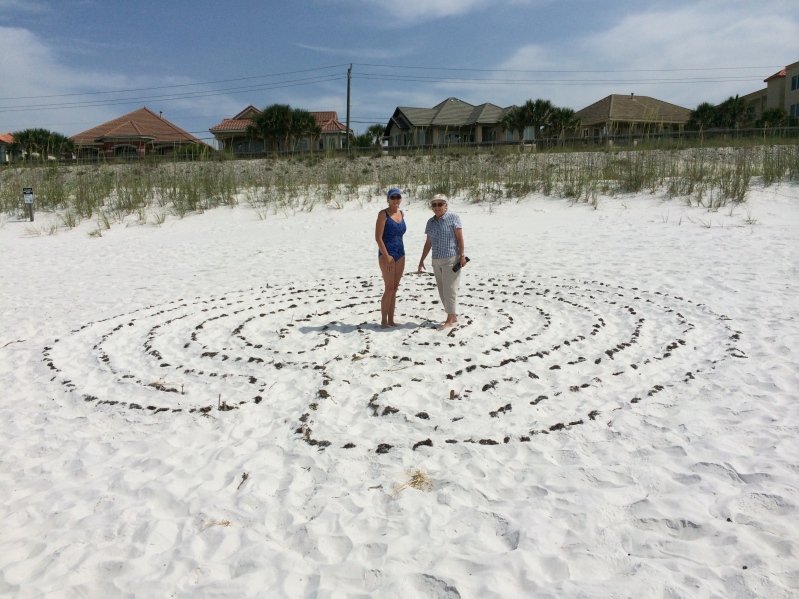 While Sally Gaskin was getting Avalon Beach ready for July 4th, she stumbled across a lady creataing the latest mystery labyrinth on Avalon Beach. She is Anne Hornstein and has been living in the area for 22 years. When one labyrinth gets washed away, she builds another. Here she is with Sally chatting about her love of the her mysteries she creates on Avalon Beach. For materials, she uses shells, feathers or even June Grass.
---
WARNING!! Most of the Residents of Avalon Know Better but your Visitors Do Not. Don't Leave Valuables in the car Overnight. Recent Visitors to a Residence on Sagris Cove Left Laptop and an iPad in the Car Overnight and Both were Stolen. Car was unlocked. If you are going to leave your car outside at night LOCK THE CAR (S).
---
AVALON BEACH CLEAN-UP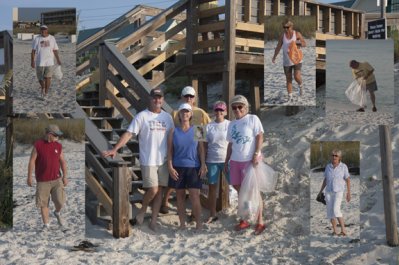 Many thanks to Jeff Tanner, Linda Douglas, Bob and Marty Rolain, Sonya & Eddie Grant, Mark, and Jim & Sherry McDaniel for cleaning-up the Avalon beach early Thursday morning as part of the South Walton Beach Clean-up Project following the 4th of July fireworks, and to Skip Atkinson for capturing those hot moments on camera! Your Avalon Beach Committee is very appreciative of your support.
---
For those in the neighborhood who are always wondering where we got the weird names for our streets, here is the straight scoop. There are 6 Street names in the neighborhood, all associated with King Arthur's Round Table. The names Avalon Beach Estates and Avalon Boulevard are derived from the legendary place where King Arthur's sword, Excalibur was forged and where he received it from the "Lady of the Lake." In the Welsh language, Avalon means "Isle of the Apples." The five other streets, cul-de-sac's in the neighborhood, Ballamore, Paginet, Alcolon, Tristam and Sagris were all named for five of the twelve knights of Arthur's Round Table.
Note:Thanks for Sherry and Jim McDaniel for the research on the streets of Avalon. This information placed under the About US menu running across the top of the home page.
---
-->