Neighborhood News
A brand new drinking fountain has been installed at the pool. Nice fresh water for all.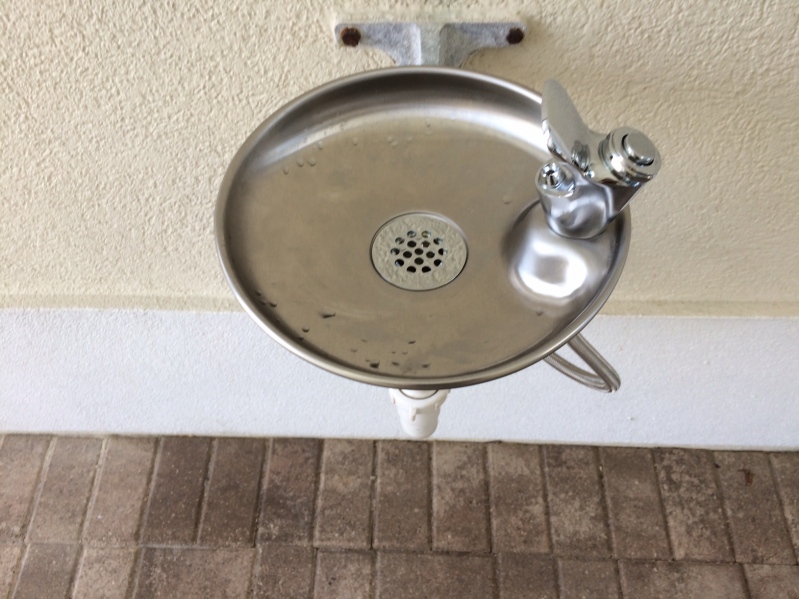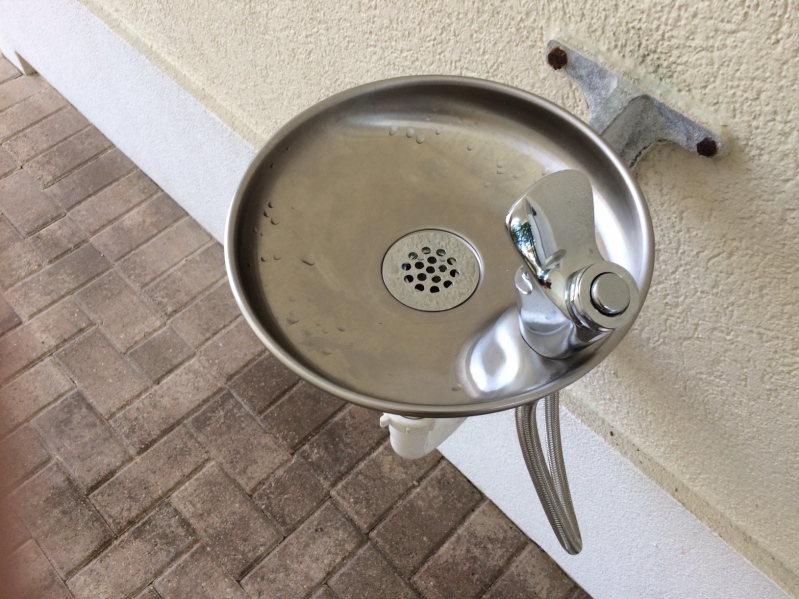 ---
Did you know that one of our residents, Leandra Lardner, was the first female play-by-play announcer for the NBA? Well it's true. There is a great write-up in The Destin Log that tells the whole story. Click on the following link to read:
http://www.thedestinlog.com/news/20180216/lardner-remembers-play-by-play-like-yesterday
---
NEW POOL COPING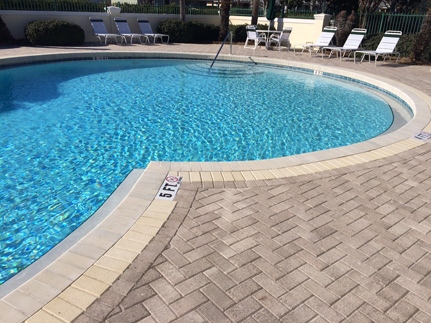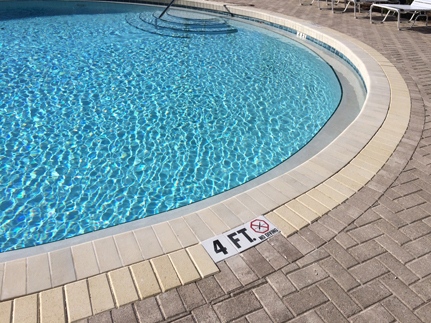 ---
The Passing Of Bob Gaskin
Colonel Robert Waddell Gaskin, USAF Ret., 76, of Miramar Beach, FL, passed away December 19 from complications of pancreatic cancer diagnosed in 2010. Born July 23, 1941, in Sumter, SC, to Marguerite and Joseph B. Gaskin, Jr., Robert attended Camden High School and was an Eagle Scout. He graduated from Clemson University in 1966 with a double major in History and Economics. After a short stint with the DuPont Company in Chattanooga, TN, he joined the Air Force to pursue his true passion – flying fighter jet planes. Robert flew O-2's as a Forward Air Controller in Pleiku, Vietnam, in 1969 where he met the love of his life, Sally Deale, an Assistant Field Director with the American Red Cross. He served 28 years in the
U.S. Air Force
as a T-38 Instructor Pilot at Randolph AFB, a U-2 pilot at Beale AFB, an F-4 pilot at Seymour Johnson AFB, Kunsan AB, and Clark AB, and as Squadron Commander of the 19th TASS at Osan AB. In his last assignment he "flew a desk" in the Office of Net Assessment for the Secretary of Defense at the Pentagon, and created the Joint Air Force Component Command (JFACC). Upon retirement from the Air Force, he became Vice President for Government Relations & Legislative Affairs for Business Executives for National Security (BENS) and the American Logistics Association (ALA). From 2000 to 2010 he was Executive Director of the Emerald Coast Science Center in Ft. Walton Beach.
He was an avid reader of everything about history, religion, politics and espionage fiction. He loved Twitter, playing golf, and taught himself astronomy and astrophotography (
www.gaskin-astro.org
). On clear nights he'd roll his huge telescope out on his driveway and teach sidewalk astronomy to anyone who was interested. He is survived by his wife of 48 years, Sally; their two daughters, Becca Webb and husband David, Sarah McKinney and husband Buck; seven granddaughters; and his brother, Jay Gaskin and wife Sandy. Colonel Gaskin will be buried at Arlington National Cemetery with full military honors. In lieu of flowers, donations may be made to the Emerald Coast Science Center of Fort Walton Beach in memory of Bob Gaskin.
Expressions of love and sympathy may be viewed or submitted online at
www.mclaughlinmortuary.com
Published Online in Northwest Florida Daily News on Dec. 29, 2017
Below is an excerpt from a poem called Flying West. It's about where pilots go when they pass on from this world that I wanted to share.
There must be a place where old pilots go,
When their wings become heavy, and their airspeed gets low,
Where the whiskey is old, and the women are young,
And songs about flying and dying are sung.
Where you'd see all the fellows who'd 'flown west' before,
And they'd call out your name, as you came through the door,
Who would buy you a drink, if your thirst should be bad,
And relate to the others, "He was quite a good lad!"
Where all hours are happy, and these good ol' boys
Can relax with a cool one, and a well deserved rest!
This is Heaven, my Son. You've passed your last test!"

— Captain Michael J. Larkin, TWA (Ret.), 'Air Line Pilot' magazine, February 1995.

Happy travels my friend, until I see you again.
Skip Atkinson
---
NEWLY RE-STRAPPED POOL FURNITURE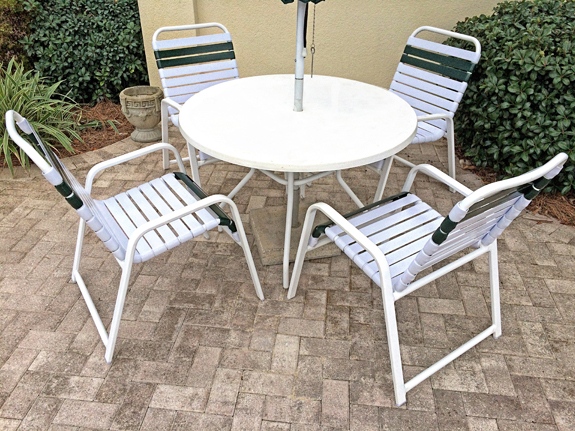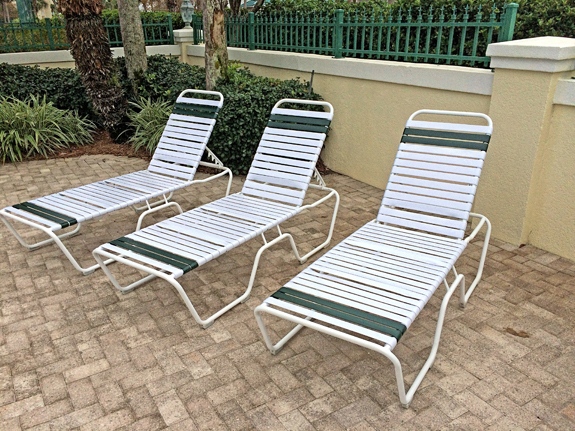 ---
Finally! Some Decent Drainage in Avalon.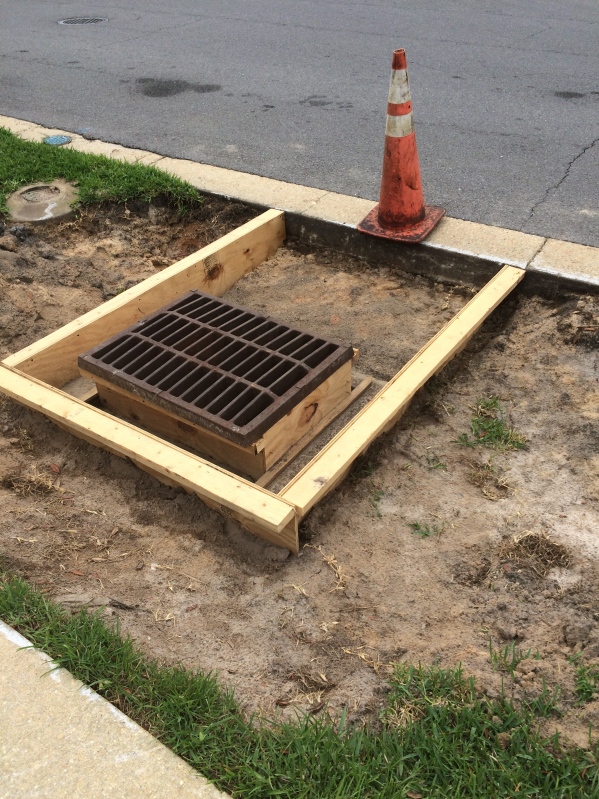 Recently, nearly every storm drain in Avalon was buried beneath one to two feet of soil and grass, resulting in flooding during heavy rains, especially on Ballamore and Paginet. Walton Country is currently repairing all of them by digging them out and then raising the drain to street level. On this one, repairmen have yet to pour and enclose the drain in concrete. A very positive step for our neighborhood.
---
The Mystery Labyrinth Maker Discovered.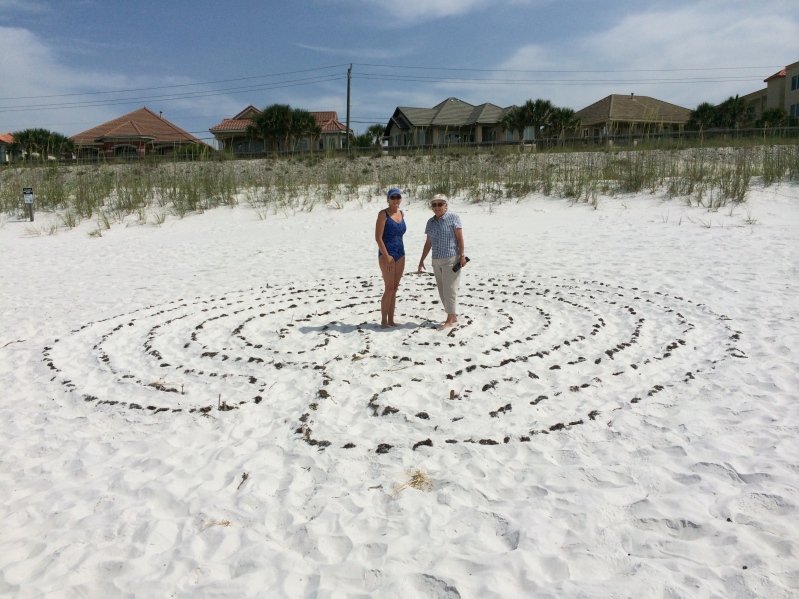 While Sally Gaskin was getting Avalon Beach ready for July 4th, she stumbled across a lady creataing the latest mystery labyrinth on Avalon Beach. She is Anne Hornstein and has been living in the area for 22 years. When one labyrinth gets washed away, she builds another. Here she is with Sally chatting about her love of the her mysteries she creates on Avalon Beach. For materials, she uses shells, feathers or even June Grass.
---
WARNING!! Most of the Residents of Avalon Know Better but your Visitors Do Not. Don't Leave Valuables in the car Overnight. Recent Visitors to a Residence on Sagris Cove Left Laptop and an iPad in the Car Overnight and Both were Stolen. Car was unlocked. If you are going to leave your car outside at night LOCK THE CAR (S).
---
AVALON BEACH CLEAN-UP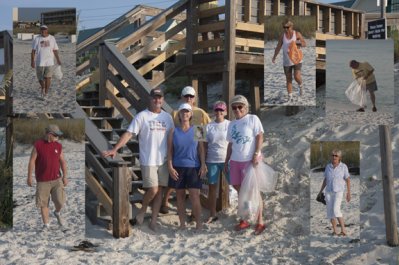 Many thanks to Jeff Tanner, Linda Douglas, Bob and Marty Rolain, Sonya & Eddie Grant, Mark, and Jim & Sherry McDaniel for cleaning-up the Avalon beach early Thursday morning as part of the South Walton Beach Clean-up Project following the 4th of July fireworks, and to Skip Atkinson for capturing those hot moments on camera! Your Avalon Beach Committee is very appreciative of your support.
---
For those in the neighborhood who are always wondering where we got the weird names for our streets, here is the straight scoop. There are 6 Street names in the neighborhood, all associated with King Arthur's Round Table. The names Avalon Beach Estates and Avalon Boulevard are derived from the legendary place where King Arthur's sword, Excalibur was forged and where he received it from the "Lady of the Lake." In the Welsh language, Avalon means "Isle of the Apples." The five other streets, cul-de-sac's in the neighborhood, Ballamore, Paginet, Alcolon, Tristam and Sagris were all named for five of the twelve knights of Arthur's Round Table.
Note:Thanks for Sherry and Jim McDaniel for the research on the streets of Avalon. This information placed under the About US menu running across the top of the home page.
---
-->